Isla Lang Fisher
(pronounced /ˈaɪlə/; born February 3, 1976) is a
Scottish-Australian actress
and author. She began acting on Australian television, on the short-lived soap opera Paradise Beach before playing Shannon Reed on the soap opera Home and Away. She has since been known for her comedic roles in Wedding Crashers (2005), Hot Rod (2007), Definitely, Maybe (2008), and Confessions of a Shopaholic (2009).
Early life
Fisher was born in Muscat, Oman, to Scottish parents from Bathgate and Stranraer, and was raised in Perth, Western Australia. They resided in Muscat because of her father's job as a banker for the United Nations. She was named after the Scottish island of Islay. She has four brothers. Fisher spent her early years in Bathgate before moving with her family to Perth, Western Australia, when she was six years old. Fisher has said that she had a "great" upbringing in Perth with a "very outdoorsy life". She attended Methodist Ladies' College and appeared in lead roles in school productions.
Career

She began appearing in commercials on Australian television at the age of nine, before going on to win roles in popular children's television shows Bay City and Paradise Beach. At the age of 18, with the help of her mother, she published two teen novels, Bewitched and Seduced by Fame. From 1994 to 1997 she played the role of Shannon Reed on the Australian soap opera Home and Away. In 1996, she won a Logie Award nomination for Most Popular Actress for her role. After leaving the soap, Fisher enrolled at L'École Internationale de Théâtre Jacques Lecoq, a theatre and arts training school in Paris and went on to appear in pantomime in the United Kingdom. She also toured with Darren Day in the musical Summer Holiday and appeared in the London theatre production, Così. In 2001, Fisher was cast as Kim in the German horror film Swimming Pool.

In 2002 she had a part in the film version of Scooby-Doo as Mary Jane, Shaggy's love interest who is allergic to dogs. She wore a blonde wig for portraying her role because Sarah Michelle Gellar was supposed to be the only redhead in the film. The following year, she portrayed the character Kristy in the Australian comedy The Wannabes. Subsequently, Fisher was taken on by an American agent. A larger role in Wedding Crashers, alongside Vince Vaughn and Owen Wilson, in 2005 won her the Breakthrough Performance Award at the MTV Movie Awards. While promoting Wedding Crashers, she was officially crowned the 1000th guest on Australian talk show Rove on 2 August 2005. She entered the set ahead of Owen Wilson, winning the title by two metres.

In 2006, Fisher starred as Becca, a Manhattan party host, in the relationship drama London co-starring Jessica Biel, Chris Evans, and Jason Statham. She played the role of Katie in the
romantic comedy Wedding Daze with Jason Biggs. In 2007, she appeared in The Lookout, a thriller film co-starring Joseph Gordon-Levitt and Matthew Goode, and Hot Rod, opposite Andy Samberg. She was scheduled to appear in The Simpsons Movie, although her appearance was cut from the final version. In 2008, she starred in the critically acclaimed romantic comedy film Definitely, Maybe, with Ryan Reynolds, Elizabeth Banks, Rachel Weisz, and Abigail Breslin, and had a voice role in Horton Hears a Who! Fisher has also co-written a script entitled Groupies with Amy Poehler, as well as another project entitled The Cookie Queen. She starred in the movie adaptation of the book Confessions of a Shopaholic, which opened on February 13, 2009. In the film, Fisher played a college graduate who works as a financial journalist in New York City to support her shopping addiction. Confessions of a Shopaholic suffered critically but eventually opened at #4 grossing $15,054,000 on its opening weekend. Fisher received her third Teen Choice Award nomination.


Fisher has spoken out against the lack of opportunities for comediennes in Hollywood. In 2010, she starred in the black comedy Burke and Hare. Fisher will then voice the role of Lucy in Rango, a computer-animated comedy film, set to be released in March 2011. In the movie, Johnny Depp and her Definitely, Maybe co-star Abigail Breslin also provide their voices-over roles.



Personal life



Fisher first met English comedian Sacha Baron Cohen in 2002 at a party in Sydney, Australia. The couple became engaged in 2004, and wed on March 15, 2010 in Paris, France. In order to marry Baron Cohen, Fisher converted to Judaism after three years of study and completed her conversion in early 2007, saying "I will definitely have a Jewish wedding just to be with Sacha. I would do anything - move into any religion - to be united in marriage with him. We have a future together, and religion comes second to love as far as we are concerned." She took on the Hebrew name Ayala (איילה), the Hebrew word for Doe; she has described herself as "quite observant". Fisher and Baron Cohen have a daughter, Olive, born on October 19, 2007 in Los Angeles, and a second child, born in the summer of 2010, whose sex, name, and birth date were not announced. The family lives in West London and Los Angeles. Fisher has said that her "sensibility is Australian" and that she has a "laid-back attitude to life" that she feels is "very Australian." Her mother and siblings live and work in Athens, Greece, while her father lives in Frankfurt, Germany.

Filmography


Film
Year
Title
Role
Notes
2001
Swimming Pool
Kim


2002
Scooby-Doo
Mary Jane


2003

Wannabes, The

The Wannabes

(Criminal Ways)
Kirsty


2003
Dallas 362
Redhead


2004

I ♥ Huckabees

Heather


2005
Wedding Crashers
Gloria Cleary
MTV Movie Award for Best Breakthrough Performance
Nominated—Teen Choice Award for Choice Breakout Female
Nominated—Teen Choice Award for Choice Hissy Fit
2005

London

Rebecca


2006
Wedding Daze
Katie


2007

Lookout, The

The Lookout

Luvlee


2007
Hot Rod
Denise


2008
Definitely, Maybe
April Hoffman


2008
Horton Hears a Who
Dr. Mary Lou Larue
Voice
2009
Confessions of a Shopaholic
Rebecca Bloomwood
Nominated—Teen Choice Award for Choice Actress
2010
Burke and Hare
Ginny


2011
Rango
Beans
Voice
2011
Kiss & Tell

[

20

]





Television
Year
Title
Role
Notes
1993
Bay Cove
Vanessa Walker
TV series
1993
Paradise Beach
Robyn Devereaux Barsby
2 episodes
1994–1997
Home and Away
Shannon Reed
65 episodes
Nominated—Logie Award for Most Popular Actress
1999
Oliver Twist
Bet
TV miniseries
2000
Hearts and Bones
Australian barmaid
TV series
2002
BeastMaster
Demon Manaka
1 episode
More Isla Fisher Sexy Photos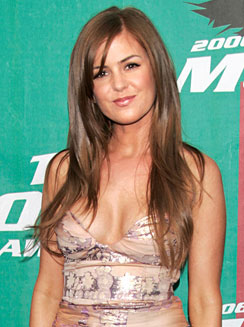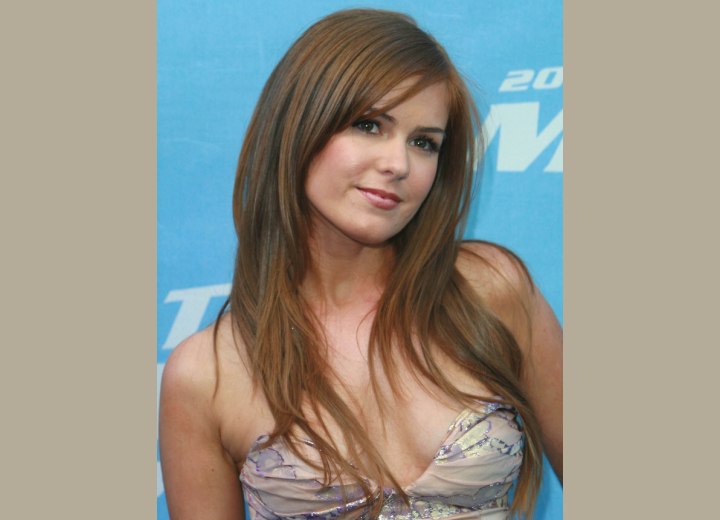 Isla Fisher Sexy Wallpaper